FOOD TRUCK SPECIAL
Sign up for Native App (iOS/Android),
and get a FREE Web App ($240 Value).
---
The Mobile App
for Food Trucks
Small business owners around the country are using Huzzah Mobile Apps to build their brands, engage customers and increase sales. Take a moment to learn about Huzzah Mobile Apps and discover how a mobile app can help grow your business.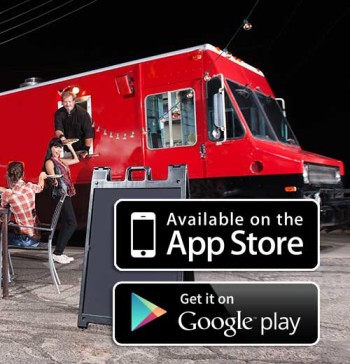 Viva La Waffle
Huzzah Media Food Truck Apps in the Wild
Want to see the app at work? Download Huzzah Media member Viva La Waffle's app in the App Store or in the Google Play store. Check out this app's recent 90 day stats:
246 New Users
1,008 Active Users
Over 7,000 Lifetime Downloads

Innovative Mobile App Features
All the features your food truck needs.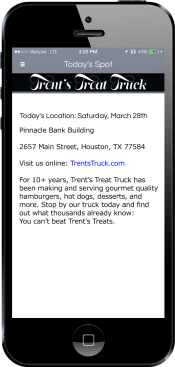 PUSH Your Location
Your mobile app will give you the ability to send your fans and customers PUSH Notifications. Let them know what corner you'll be at, or offer them a special deal. The power is in your hands!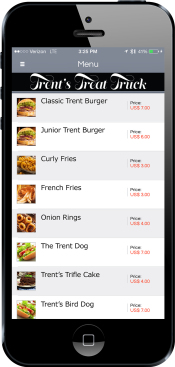 Build Your Menu
With an app from Huzzah Media, it's extremely quick and easy to build and edit your food truck's menu, set and change prices, upload pictures and add descriptions.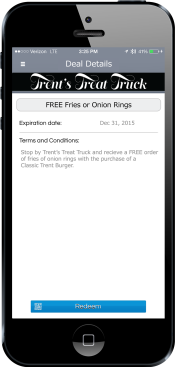 Offer Exclusive Deals
Give your fans more of a reason to download your app and to come back for more by offering special offers and coupons right inside your app!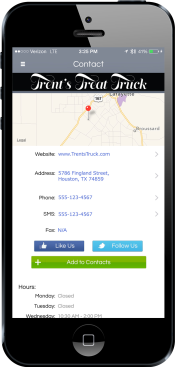 Stay Connected
Keep in touch with your fans by connecting your Facebook and Twitter account inside your app. Also, talk directly to fans with your app's built in messaging feature!
We are constantly working to bring new features to our mobile apps. Is there a feature we are missing? Let us know here.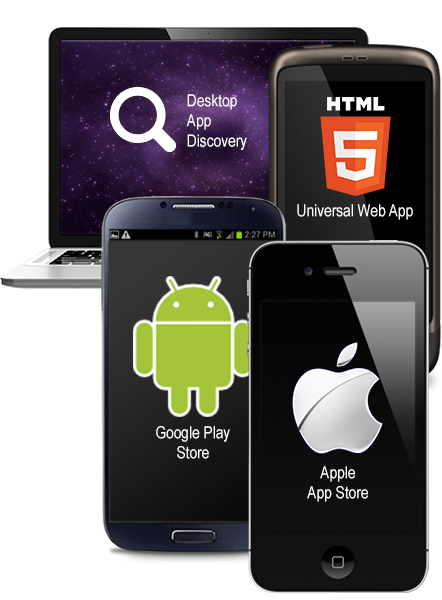 Every Customer. Every Device.
Apple iOS, Google Android and Universal HTML5
App Express equips your small business with a mobile app that reaches multiple devices. No coding skills are necessary — we will convert your app for you so that it is compatible with iPhones, Androids & HTML5 enabled devices. It will also appear in the iTunes Store and Google Play Marketplace. Whether the majority of your clients are iPhone users or Android fans, they will be able to find and download your app with ease.

Affordable • Powerful • Personalized
Build Your Brand
Engage Customers
Make More Sales
Mobile App Stores
Finding success for your small business is all about building your brand and spreading your name. But in a world where everything moves so fast and everyone manages their emails, appointments, and finances straight from their mobile devices, it can be hard to grab the attention of everyday consumers. That's why having a mobile app that links your customers straight to your business has never been more essential. App Express offers a unique and manageable mobile app solution for any small business.

Mobile App Plans
Access to All Features
We Create Artwork for You
We Assist with Content
We Assist with Setup
Free Upgrades
Free Support with Digital Product Coach
X
X
X
X
Works on all Phones & Tablets with Browsers
X
HOT
Access to All Features
We Create Artwork for You
We Assist with Content
We Assist with Setup
Free Upgrades
Free Support with Digital Product Coach
PUSH Notifications
Customer Analytics
Manage from Your Device
Includes FREE Web App
Works on Apple & Android Devices
Submitted to Apple App Store & Google Play Store
HOT

Want to learn more? Let us know if you have any questions or would like more information.